Procurement and financial manager of the GHASOR Project (H/F)
Departement Economie Durable et Inclusive - EDIN > Pôle Entreprenariat et Innovation
Mis en ligne le : 23/07/2020

AFRIQUE SUBSAHARIENNE

GHANA

ACCRA
Description de la mission
Under the supervision of the director of the Economic and Financial Governance department at Expertise France, and in order to ensure the proper management of funds and conformity with AFD rules (the Agence Française de Développement is the lessor of the project), a procurement, administrative and financial manager will be recruited for this project.
1. As regards funds directly handled by PIAD and SIGA, the duties will be as follows:
Closely work with the PIAD and SIGA team on the definition of the procurement plan for the consultancy and technical assistance activities to be launched under their responsibility (funds directly handled by PIAD and SIGA)
Review of the procurement process and tender procedure before approval from AFD to ensure full compliance with AFD procurement rules;
Follow the expenses to be able to elaborate consolidated financial reports for PSC and to allow overall annual financial audits;
2. As regards funds directly handled by Expertise France, the duties will be as follows:
Follow up the daily expenses, local bank account operations, payment of local expenses and elaboration of financial reports in collaboration with the EF project manager in Paris, preparation of request for payment for AFD, and follow up of annual financial audits;
Ensure the presence of experts' timesheets, receipts and supporting documents requested for financial reports and annual audits;
Following both type of funds execution, the procurement and financial manager will:
- elaborate a consolidated financial report every 3 months for the quarterly technical committees,
- elaborate a consolidated financial report every 6 months for PSC and facilitate the general annual financial audits financed under EF's funds.
Description du projet ou contexte
The proposed "support to the Ghanaian Monitoring system of the governance and performance of the State owned enterprises" (GHASORG) project will contribute to the effective implementation of the new mechanisms developed to consolidate oversight and to promote good corporate governance of State owned enterprises (SOEs), Joint Venture Companies (JVCs) and Other State Entities (OSEs, like Regulators) in Ghana.
The 36-month project (2020-2023) for a total amount of 5 million euros (including 1,5 Million € devoted to Expertise France for the technical assistance) will support the operationalization of a new institutional mechanism which aim is to help the Ghanaian State exercise a better control over its assets, in particular those engaged in state enterprises ("joint venture companies" and "state owned enterprises") and other public bodies (other state entities). This institutional reform is a the result of a 5-year reform agenda leading to the adoption of the State Interest Governance Authority (SIGA) Act in June 2019 and the official launch of the new Authority in August 2019. SIGA will have to endorse the various missions being devoted to date to various institutional actors representing the shareholder state, ensuring collaboration between state actors (finance, technical) and serve as a systematic crossing point of the State's relations with the public entities under its supervision.
The project will specifically focus on: a/ activities related to the new positioning of Public Interest and Asset Division (PIAD) unit of the Ministry of Finance in terms of policy/regulatory orientations and as interface of SIGA with the Ministry; b/ the capacity development of SIGA to undertake its new responsibilities and the development and update of tools and guidelines; c/ operationalization of the new oversight system and governance principles at the level of a sample of SOEs.
The project organized around 4 main components:
Component 1 - Support to the policy/regulatory orientations related to the State Ownership Policy (SOP) and the State Asset Management Policy (SAMP)
Component 2 - Support the operationalisation of the SOE/JVC/OSE centralized oversight
Component 3 - Support the operationalisation of centralized oversight at the level of SOEs
Component 4 – Project management and coordination of the actions
The procurement and financial manager will be in permanent contact with a project manager from the headquarters of Expertise France, to support him in carrying out his missions.
The forecast composition of the team is as follows:
· a coordinator / change management expert based in Accra;
· a procurement and financial manager based in Accra;
· a network of short-term experts mobilized according to the project workplan;
· a project manager based at the headquarters of Expertise France in charge of project supervision
A focal point will be designated within the Ghanaian Ministry of Finance as well as within the new public entity and will work in close collaboration with the expert.
Profil souhaité
Qualifications and skills
- Diploma in economics, public finance or public administration
- Ability to work and interact in a multicultural environment
- Excellent command of Excel
- Excellent command of English, oral and written
General professional experience
- 3 years of experience in managing the procurement and financial reporting of a project funded by international donors (for instance EU, WB, USAID, AFD…);
- Proven experience in financial control of projects and/ or audit
- Proven experience in project management activities with multiple actors
Others
- Strong capacity for work and autonomy, flexibility and organization, reactivity;
- Full command of pack office
- Good command of French is a plus
Informations complémentaires
Further information
• Mission location: Accra
• Duration of the mission: 36 months
• Date of taking up office: October 2020
Documents to provide
Applications must be sent to : domitille.arnaud@expertisefrance.fr
with: CV, cover letter and references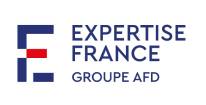 Expertise France est l'agence publique de conception et de mise en œuvre de projets internationaux de coopération technique. L'agence intervient autour de quatre axes prioritaires :
gouvernance démocratique, économique et financière ;
paix, stabilité et sécurité ;
climat, agriculture et développement durable ;
santé et développement humain.
Dans ces domaines, Expertise France assure des missions d'ingénierie et de mise en œuvre de projets de renforcement des capacités, mobilise de l'expertise technique et joue un rôle d'ensemblier de projets faisant intervenir de l'expertise publique et des savoir-faire privés.